White Water Rafting & Crystal Cave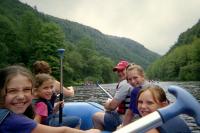 We had a short but ACTION PACKED camping trip last weekend in the Lehigh Valley.  We camped for two nights in Hickory Run State Park but did not get much time to explore it, other than the famous Boulder Field.  We had some heavy rains just after setting up the tents and canopies, but had good weather for the rest of the stay. On Saturday, our second day, we went wite water rafting on the Lehigh River, with Pocono Whitewater Rafting. We had a great time, and team Fabian/Macera worked well together navigating the Class III rapids (due to a dam release), until one of the last rapids, where we got stuck on a rock, had our boat fill with water, then had to get out of the boat to push us off.  We survived until the next rapid, when three of us were thrown from the boat. After bouncing off some rocks, we managed to get to shore to bail out our boat, and continue on to our destination.
On our third day, we packed up camp, had lunch on the Boulder Field and then headed home, with a side trip to Crystal Cave. I had not been there since I was a kid, and the girls had a great time asking our guide a lot of questions, and learning a lot about geology.