Anniversary Hike on the A.T.
While the girls are still in Belgium, and despite a backlog of work & house projects, we decided to take a 3-day hiking trip on the Appalachian Trail.  It was less than a 20 mile (in & back) trip, but we needed our "zero day" in between to recover from the hard hike in.  We started at the Dunfield parking lot off of Route 80, in the Delaware Water Gap and hiked to Mohican Outdoor Center.
We had done the Dunfield trail before, but not with 25-30 lb. packs on, and though it was beautiful, the rough terrain, steep uphill climb, and hot weather took their toll.  Less than 2 liters of water each was not enough for the 7 hour hike 🙁   By the time we made it to Sunfish Pond (about half way) we were pretty sore, and though the second half of the hike was relatively easier, it felt much worse when thirsty and tired.  Despite hearing thunder for quite some time, we were lucky to have less than 30 minutes of walking in light rain before hitting Mohican where our first order of business was to gulp down some water from the outdoor hose.
At the office we checked in, and while Joke slept in the great room, I went to check out our site.  Unfortunately, I found a tent set up on it, and it wasn't ours :-/  While we waited out the rain, the manager cleared up the matter, and soon we had our tent up.  Hungry and tired, we fired up the new camp stove, and boiled water for our mouth-watering powdered meal 🙂 which we enjoyed under our umbrellas as the rain came and went.  Exhausted, we retired to our 4-start tent by 9:00pm.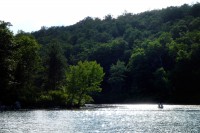 The next day we woke early to instant coffee and dry bagels (quite the luxury to thru-hikers) and then set off to explore the Rattlesnake Swamp trail to a viewpoint on the A.T., where we had our provolone, soppressata and bagel sandwiches.  After lunch we headed to Catfish Pond for a swim and a nap, but were awaken by a light rain.  As we waited out the rain, we spent some time in the center's great room, and splurged on a second lunch, a turkey sandwich (with PICKLES!) which we split.  We read a bit and had friendly conversations with some "thru-hikers," and around 6pm left for another delicious powdered meal back our site. The office & great room, where we planned to spend the evening with fellow campers, lost power, so were retired to our tent as night fell.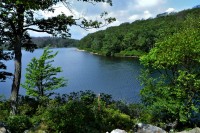 On Monday we slept in til 7:00am, and had more instant coffee & bagels to fuel us for our hike back to the car.  Unlike car camping, we quickly broke camp, had our backpacks packed and were on the trail around 9am. To avoid getting dehydrated again, we drank almost a liter of water before hitting the trail, not knowing if it would be as rough on the return as it was coming in. Fortunately it was a little cooler, and the first half of the hike was nothing like the Dunsfield trail we had on the first day, so we made it to the 1/2 way point much quicker than expected.  We even took a side trip around Sunfish Pond where we saw snakes, birds and shared a wonderful vista with a blue salamander. Earlier in the trip we caught a glance of a small black bear running off the trail, and a young deer peering at us, just off the trail, as well as a few (rank) thru-hikers on their way to Maine.  At noon, we had lunch once again at the pond, but with much more energy than the first day, and once Joke put some duct tape on her blisters, we were off again for our last section of the A.T. back to the car.
Of course, I'll wrap this post up with a bunch more photos … enjoy 🙂