First Half of 2012 Mash-Up
Well it's been a long time since we've posted to the "Macera's page," but that doesn't mean nothing has been happening in the past six months. Quite the opposite … it's been an event-filled first half of 2012 with no time left to post. Since we're seeing off the girls today for a 3 week trip to Belgium, I thought it would be a good time to jam the previous six months of events into one post. It might be too much to take in all at once so take your time, and enjoy. We'll go chronologically, with some description, but mostly pictures … what can I say 🙂
FEBRUARY
Chinese New Year @ University Museum
In February we celebrated the Chinese New Year at Penn's Museum. We didn't have much time to spend, but we enjoyed being shown the erhu which Elisa had a chance to play, and had fun watching the Dragon Dance out the auditorium and into the courtyard.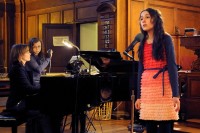 Gabriella Sings at Germantown UU
On February 19th, Gabriella performed "Beautiful" again at the Germantown UU  as part of a music exchange between our respective congregations.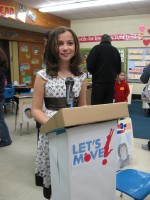 At the end of the month, Elisa was Michelle Obama in her school's "Wax Museum."
MARCH
Recycle Runway
Gabriella and her friends, including Sylvia, made a dress for a Recycle Runway competition (3/10/12). They didn't place, but we and the local newspaper thought they were winners.
In March, Elisa was chosen to participate in the Pennsbury Honors Band (3/10/12). If you didn't know already, Elisa is quite the prodigy at oboe and the guest conductor, William S. Stowman from Messiah College could tell right away. He singled her out as an oboist who's going places, and guaranteed her a scholarship when she was ready for college.
On the same day, the family attended the Charles Boehm production of the musical, "Curtains". Gabriella was part of the supporting cast and had a great time with many of her friends who were also involved, including Sylvia, who had the female lead.
OK – just a cute picture of Elisa & Kuzco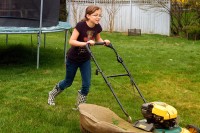 Elisa Cutting the Lawn
Papa had tendinitis in his shoulder this spring, just in time for peak lawn cutting season, so Elisa thought it would be a good time to pitch in. She did a portion of the back yard, but decided she wasn't quite ready to take the job away from the old man.
APRIL
Tyler State Park
It was a beautiful spring day, and the family decided to spend an afternoon in Tyler State Park (4/14/12). Even Papa got into one of the pics.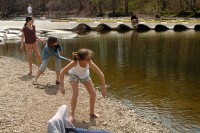 In Bloom
Just thought I'd include a photo of our beautiful Peony that continues to dazzle us each spring (4/18).  As well as include a shot of our wisteria in full bloom.  In case you don't remember where that started, I'll include a shot from 6 years ago to illustrate how much it has grown.
Gabriella Honor Society
Gabriella made it into the Honor Society this year (4/26), as if we ever doubted.
Here's a song to help you remember our 50 states.
MAY
Softball
Elisa once again joined Pennsbury Softball this spring in the "10U" league. She had a great coach (Coach Decker) and did great at bat & on the field – she even pulled off a double play. She struggled a little at pitching, but fulfilled a much needed role on the team.
Coming of Age
May 6th was Gabriella's "Coming of Age" ceremony for our church (UUFLB). She wrote an amazing "statement of faith" as well as a song which she performed for the packed audience. As part of her CoA, she also created a beautiful mask.
Dance
Once again, the Memorial Day weekend meant the annual Dance Arts of Yardley's recital, but this year it was only Gabriella performing (Elisa saved her time for riding & softball).
JUNE
June brought the end of the school year which was highlighted by Elisa receiving the President's Award for Educational Excellence (6/7/12) and her MG Red Carpet event (6/8/12), where the group created a movie of their version of "A Midsummer's Night Dream."
Birthday Parties
Mama organized the girls' birthday parties to occur within days of the end of school, but they ran into some problems. For Gabriella's Tubing Party (6/12) it rained, though the kids made the most of it at Tyler Park, and was re-scheduled, with much success, two weeks later (6/27). Elisa's "Titanic" themed party was crippled due to the lack of being able to find the video anywhere (Amazon Video, Netflix, etc.) but the girls enjoyed the evening despite the setback.
WATER FUN VIDEO
Ocean City
As soon as the school year ended we headed to OC for some much needed R&R. Papa got an underwater camera (LUMIX DMC-TS4) for his birthday, which we brought to the beach to capture those shots that he preferred not to use his expensive camera for.
JULY
More Birthdays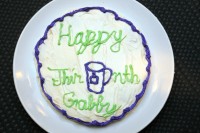 On Saturday the 7th, we celebrated Gabriella's birthday with the family. Gabriella made the cake (using Chai tea as one of the spices) but thought it would be more appropriate if someone else decorated. Carrying on the "tea theme" we designed the decoration that Elisa then 'piped' onto the cake … get it? 🙂
Later that week went went down the shore again for a few action filled days which included fishing, beach, crabbing (with Nonno) and more beach. We spent July 4th at the pool with the Rennenbergs where Papa perfected is slide technique. It's the last we'll see of OC for a while until the girls return from their 3 week trip (traveling alone) to Belgium.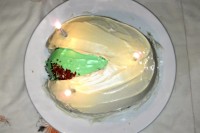 Last weekend, we celebrated Nonno's 83rd birthday since the girls would be away on the 31st.  Gabriella made a pistachio flavored, and decorated, cake for him which everyone enjoyed except the biggest food critic herself, Gabriella.