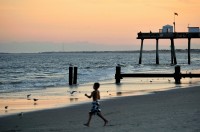 Back "down the shore" for our second week as a family this summer. This time round, we hooked-up with the Fabians(+) who traveled 340 miles to visit beautiful Ocean City, NJ, and they were treated to an earthquake & hurricane in one week … do we know how to entertain our guests? 🙂
Had a great time on the beach & in the water, though one day the water was really cold (65°). Even had a small 2-hand touch football game – who would have expected the daughters of a couple die-hard Eagle/Patriot fathers didn't know anything about the rules of football! That's ok, they now know the "button hook" and "crossing pattern" in the context of football, not sewing 🙂
On Tuesday, while relaxing on the beach, the earth moved as we felt the earthquake from Virginia which measured 5.8 on the Richter scale.  Mama thought she was getting dizzy & fainting, while I thought some annoying kid (my own) was banging my chair.  We quickly realized it was an earthquake, and then just sat back an enjoyed the ride (while keeping an eye on the water to make sure a tsunami wasn't coming next).
On Wednesday we had a successful day crabbing, pulling in 9, and Mama treated us to a fine seafood dinner with crabs in red sauce, and littleneck's in a garlic wine sauce … we ate and drank like kings, queens and princesses! We tried fishing on Thursday, but between the rain, we only caught a few sand sharks, though we were treated to a great lightening display across the bay.
Unfortunately, the trip was cut short due to Hurricane Irene and a mandatory evacuation of the island. We battened-down as much as we could, packed up Thursday night, and were off around 7am on Friday.  Hopefully Irene will go easy on our shore house, and it will still be there when we go back for Labor Day weekend.
Here are a few pics form the trip:
—-